mental health and wellbeing
At Phoenix Infant Academy, we are committed to supporting the mental health and wellbeing of our entire school community: children, staff, parents and carers. We recognise that positive mental health and wellbeing is key to success and aim to ensure that our community is supported to fulfil their potential and access help when they need it.
Our Vision
To create a culture where mental health and emotional wellbeing is prioritised and valued, whilst promoting and respecting the cultural, spiritual and social diversity within our community.
Our Senior Mental Health and Wellbeing Lead is Assistant Principal, Becky Austin.
Teaching about Mental Health
We take a whole school approach to promoting positive mental health to support children to become resilient and able to regulate emotions should problems arise. We deliver this via our curriculum and through the Zones of Regulation.
In addition to this, if we feel a child needs further support, we have access to the following interventions and external agencies:
Intervention
An Overview
ELSA

The Emotional Literacy Support programme helps children with their emotional literacy and can be used to support emotional development, improve relationships and understanding of challenging situations.

Please look at our Parent Flyer below for more information.

Lego Club

Lego Club supports children who struggle with friendships, turn taking and sharing. The intervention uses key roles to develop children's understanding of these areas.

Please look at our Parent Flyer below for more information.

SEBDOS
PIA buys into SEBDOS (Social, Emotional and Behavioural Difficulties Outreach Service), who work with children individually, in groups or whole class. They offer bespoke intervention depending on the needs of the child/children. SEBDOS can also provide training and advice for staff.
EP
For children with more significant needs, it might be necessary for an Educational Psychologist to observe them. An EP can offer individualised recommendations to support a child's mental well-being.
Zones of Regulation:
Zones of Regulation provide children with the emotional literacy they require to identify and share their feelings. The approach is one of acceptance and recognition; it is not 'wrong' to feel a particular way, rather the focus is how children regulate themselves in response to an emotion.
When entering the classroom in the morning and after break/lunch times, children are prompted to put their named stick into a coloured pot depending on how they are feeling. If children are feeling anxious, upset or frustrated, they can spend 5 minutes in the Self-Regulation Zone. After this time, a restorative conversation takes place and they are encouraged to participate in the whole class activity.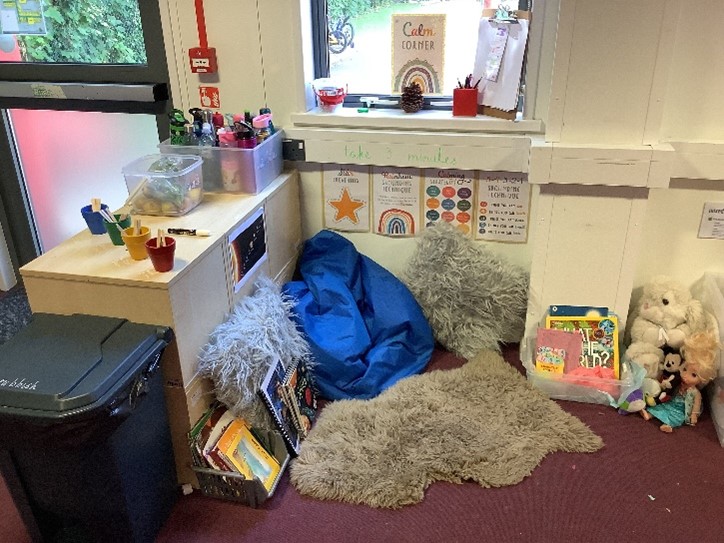 Digital Wellbeing
Digital wellbeing is the impact different technologies have on our mental, emotional and sometimes physical wellbeing.
In an over-evolving and modern society, children have access to a range of technology. However, it is paramount that children are taught to use it safely, appropriately and in moderation.
To promote Digital Wellbeing, we:
Work in partnership with parents through parent workshops and discussing any concerns
Show parents how to set parental controls on devices
Have website restrictions in school
Teach E-Safety as part of PSHE
Staff Wellbeing
At PIA, staff wellbeing is a priority and feel it is fundamental part of running a happy and successful school. To ensure this, we:
Do regular staff surveys and react accordingly to ideas
Have 'treats' for staff, our most recent one was a Spa Day
Ensure the school culture surrounding mental health is accepting and staff know avenues to follow if the need further support
Ensure staff have access to support through the Employee Assistance Programme
Ensure work-life balance is a priority and review ways to keep work related stress and/or pressures to a minimum
Ensure staff are supported through targeted CPD, for example the Mind E-Course
Ensure staff have fortnightly 1:1 meetings with their Line Manager. These meetings link directly to the PERMA model