Oracy
Intent
Speaking and listening are core fundamentals of our curriculum. We strongly believe that children who develop effective communication skills are better prepared for future success, both academically and socially.
Phoenix Infant Academy have invested in Oracy training with Voice21 and we are committed to creating and embedding a culture of oracy in our curriculum and whole-school life.
The heart of Oracy is a dialogic classroom. Our classrooms are communication friendly, rich in talk and promote challenge through critical thinking, high order questioning and debate. Throughout the curriculum, there are opportunities for discussions where children can lead their learning through talk.
We recognise that children who communicate well are more likely to form good relationships with other children and adults. Therefore, Oracy at Phoenix Infant Academy focusses on vital social skills in order for children to be skilled and equipped with the tools that they need not just in school, but in their future lives.
Implementation
Phoenix Infant Academy has adopted the Voice21 framework for Oracy which splits the teaching of speaking and listening into four strands:
Physical

Cognitive

Linguistic

Social and Emotional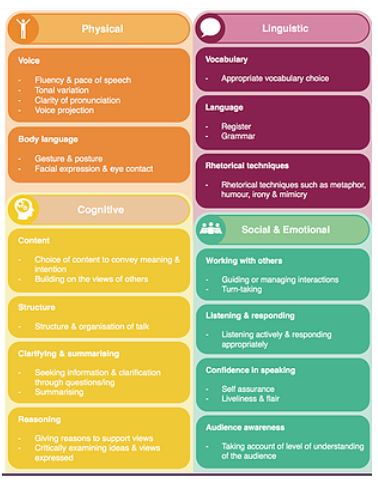 Our lessons are rich in talk, questions are planned, peer conversations are modelled and scaffolded and the teacher uses talk skilfully to develop thinking. Children are given opportunities to develop Oracy skills and build their confidence in talking in formal and informal situations, both in and outside the classroom.
Children have explicit Oracy lessons where they are taught skills across the strands, using sentence stems to support where necessary. Rich vocabulary is explored and children have the opportunity to discuss, debate and recite themes based on a range of topics.
Impact
Oracy skills are assessed using the oracy framework. Each year group has Oracy objectives which build on and extend from the previous year, ensuring progression as the children move through the school.
Through the teaching of oracy, children will be able to:
Speak fluently, with confidence and clarity

Speak in front of an audience

Talking in full sentences

Explore ideas through talk

Deliberately select gestures that support their ideas

Recognise the value of listening to what others say

Use conjunctions to organise and sequence their ideas

Adapt how they speak in different situations according to the audience

Value their own opinions and be able to express them to others

Ask questions to find out more about a subject

Respond appropriately to what others say

Challenge each other's opinions and develop their own reasoned arguments

Respect the contribution of others and take account of their views

Appreciate the diversity of languages, dialects and accents in the school

Consider the impact of their words on others when giving feedback

Share their learning in an engaging, informative way