"Reading allows us to see and understand the world through the eyes of others."
– Chris Riddell
Messages from the Deputy Principal, Miss Jarrett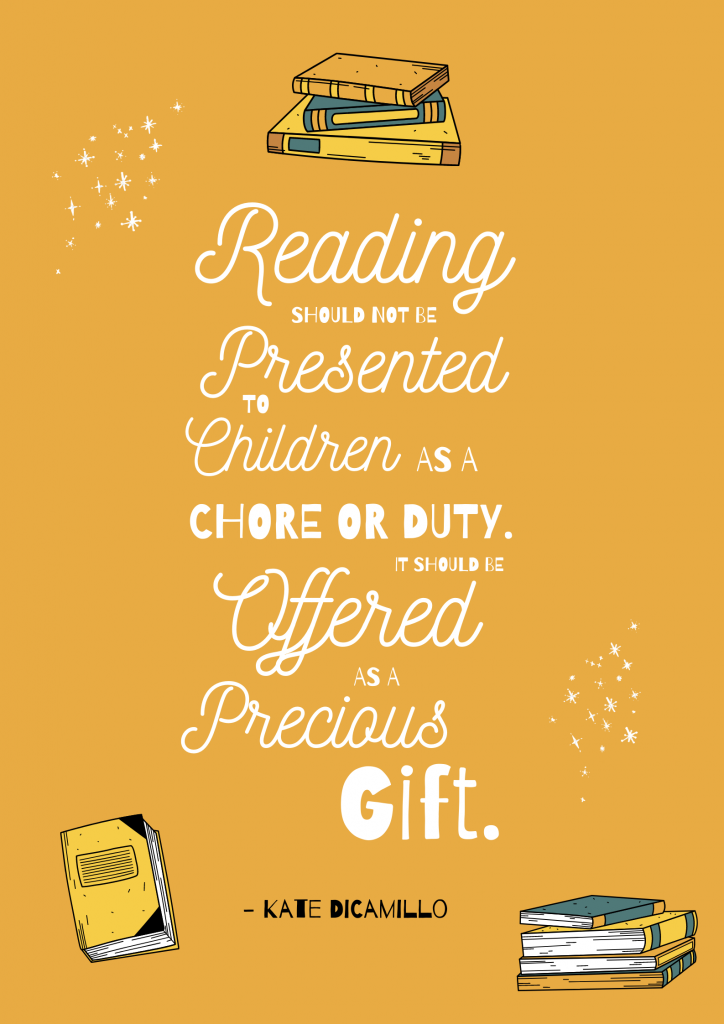 This past week we have been celebrating our love of reading with Book Week! It has been lovely to watch and listen to all the children and staff engaging in lots of different activities, from bedtime stories to dressing up on World Book Day.
We have seen some lovely writing as children have been inspired by their experiences.
Developing children's love of reading is something we are particularly proud of at Phoenix. From storytime in every class at the start of every school day throughout the year to celebrations during book week we ensure that reading is given the priority it needs.
Slough Libraries provide great opportunities to borrow and read books for free. However this is not all they offer! The Curve offer a range of adult education lessons. Take a look at their website (link below) for more information.
Why not learn for your own interest or to gain a new skill:
• English as a second language
• Functional English and maths
• Arts and Crafts including henna and knitting
• Family learning
• Employability including CV building, application forms, and interview preparation
• Computing and Social media
• Personal development – develop your self confidence, communication skills and team working
More information about the types of courses
Our Pupil Librarians took a leading role in book week. They led an assembly on the importance of reading and interviewed lots of teachers to find out their favourite books. They read stories to different classes across the school, helping to inspire a love of reading to children in year 1 and reception. They ran a fantastic book and cake sale on Wednesday, raising just over £150 for new diverse books for our school library. Thank you to everyone who came along to support them.
We were thrilled to be back face to face for our bedtime stories event - the first time this has been able to be in school since February 2020! Children (and staff) loved coming back to school in pyjamas to listen to different bedtime stories and, of course, enjoy milk and cookies. We would like to thank Tesco's who donated the milk and cookies for us to enjoy as well as the parent volunteers who came along to help on the night. Finally, bedtime stories couldn't happen without the teachers who gave up their time to stay late at school so that the children can come and enjoy so a huge thank you to all of them.
World Book Day 2023
Changing lives through a love of books and reading.
We love celebrating World Book Day and it was wonderful to see everyone dressed up as their favourite book characters on Thursday. We had Crayons, Paddington, Matilda and so many more! Children should have come home with a World Book Day £1 voucher on Friday. These can be exchanged for one of the books below. These books are available from many supermarkets (e.g. Asda) so please do take your child to go spend theirs!
Author/Illustrator Spotlight
Rashmi Sirdeshpande
Rashmi Sirdeshpande is an award-winning children's author who writes a happy mix of fiction and non-fiction. She was an official World Book Day author for 2022.
We love her dinosaur series of books, including Stegosaurus can't do sums. Her latest book - Dadaji's paintbrush is a wonderful tale of family and legacy.
Nadia Shireen
Year 2 have enjoyed stories written and illustrated by Nadia Shireen.
Nadia Shireen is also an award winning author. We have enjoyed her Billy and the Beast series. She has also written a silly, funny chapter book series - Grimwood which is great for children starting their journey into reading longer texts.
Please ensure you are reading regularly with your child. This should include:
Your child reading their home reading books to you. Children in Year 1 and 2 will bring home Read Write Inc decodable books each week and they should read these to you as often as possible. Children in Reception will bring home reading books once they have developed their phonic knowledge.
You reading to your child - this could be their library book, a favourite story or making a story up! This should happen every day.
We love to see photos and videos of your child reading at home! We have loved how enthusiastically everyone has taken to recording reading using the online Learning with Parents reading log. We have loved seeing all the photos and listening to the audio clips of children reading. As this is a new feature with Learning with Parents they are continuing to refine their website and Mr Burrows is working closely with them so do feedback any comments you have so we can pass these on.
If you would like support developing reading routines at home please do speak to your child's class teacher.
The Reading Realm iPad app
The Reading realm app is free to download on iPads is designed to:
Support and encourage wider reading
Encourage authentic, purposeful book talk
Each passage comes with a set of open-ended questions and prompts, for children to discuss. These are not designed to be test questions – these are about encouraging children to evaluate, share their opinions, likes and dislikes.
There are a range of different activities to complete for each text - including spelling, sentence structure, punctuation and word structure.
It is unfortunately only available on iPads.
Oxford Owl Free eBook Library
Oxford Owl have a free eBook library which has been created to help children aged 3–11 to develop their reading skills at home.
All the eBooks are free to use, but you will need to register or sign in at the link below to read your book.
"You can make anything by writing."
C.S. Lewis
Children in Year 1 and 2 use Spelling Shed to practise their spellings more regularly which brings success for everyone to celebrate! We recommend children complete 10 minutes on Spelling Shed every day to have the most impact. Log in details are stuck into children's reading records - please speak to your child's class teacher if you can't find them.
Spelling Shed is not only a way to practise spellings, but is also a competition! Children score points every time they play - the more spellings they spell correctly, the more points they score individually and for their class!
Shed Score - How the score works
This is the main score used for leagues and is the total score from the past seven days. This may go down as well as up. It is rolling total which is calculated live and the score is cached after each game play. For example, if you earned 30 million points on Wednesday, the following Tuesday those points would be included in the shed score but on Wednesday, those points are now more than 7 days old so they stop being included in the score.
Top Spelling Shed Groups
Congratulations to Eagle Class who are this week's winners at Phoenix!
1. Eagle: 38,284,331
2. Kingfisher: 35,402,292
3. Falcon: 34,888,736
Top Spelling Shed Pupils
Congratulations to Reneen who is this week's top Speller!
1. Reneen in Kingfisher class: 20,909,548
2. Wahab in Falcon class: 14,564,032
3. Tanvir in Eagle class: 12,654,140
Ways to Support Your Child's Handwriting
Oxford Owl have lots of helpful guides to both reading and writing. We recommend taking a look at their handwriting advice: Handwriting - Oxford Owl for Home
Practice makes perfect
Good handwriting needs lots of practise. Practise handwriting with your child a few times every week – perhaps using the week's spelling words. This will help them to develop good habits and strong muscles in their hands (and good spelling). Use special handwriting paper to check the position of each letter.
Gross motor skills
In order for your child to be able to sit upright at a table for any length of time, they need to have developed strength and stability in their:
Trunk
Neck
Shoulders
Hips
Play Outside Every Day to develop your child's core strength and stability. Experts strongly recommended that the most important thing for children to develop fine motor skills was unstructured free play outdoors. Go to the park or play in your garden as much as possible!
Here are some ideas for activities you can do to help your child build gross motor strength:
Shoulder Stability:
Activities using dance streamers or ribbons
Keeping large balloon in the air above the head
Pouring water from one container to another
Chalking on a wall using whole arm movements
Twirling a skipping rope
Tug of war
Animal Walks:
Puppy dog walking Also good for hips, wrists and shoulders.
Crab walking Also good for hips, wrists and shoulders
Bunny hops
We know that children who enjoy writing and are motivated to write are eight times more likely to achieve well academically. It is important that children are given lots of opportunities to write.
Top Tips
The best things you can do when helping a child write:
Devote time to it.
Make it a quality experience. Show your own interest and pleasure in writing.
Allow children to choose what they would like to write.

See talking and drawing as planning and encourage taking things from the reading, video games, play, film, or the television programmes that they like.
What not to do when helping a child to write:
Don't look over your child's shoulder all the time and criticise.
Don't control their writing.
Don't stop to correct errors immediately.
Don't ask a child to write without talking and writing together.
Here are just some of things you can write together:
jokes
labels
lists
recipes
letters
invented stories
fairytales
Not only can writing improve your creativity and memory, but it's also a great stress reliever. Writing down thoughts, feelings and emotions can boost mindfulness and increase calm. See below for lots of different writing ideas!
Please share any writing your child does at home on their Dojo portfolio!
Year 1 have been writing poems based on the Michael Rosen Poem "Chocolate Cake". They have also written fact files based on Kevin from "Can I build a new me?" They innovated it with information about their class teacher and then and then finally wrote about themselves. In history, they have learning about timelines and have written about the events that happened over time from the 1950's until the present date.
Kingfisher class - Zaki
Kingfisher class - Zoya
Kingfisher class - Farhan
Heron class - Amber
Heron class - Adam
Swan class - Aira
Swan class - Abdul
Follow us on Twitter! @phoenixinfants